From last week's walkout at Google to the upswell in women's voices calling for gender equity in tech, Silicon Valley women have had something of a reckoning over the past few years. While actress Amanda Crew may not literally work in the tech industry, she portrays someone who does: Monica Hall, her plucky character on the HBO sitcom "Silicon Valley." Though fiction, "Silicon Valley" tackles Silicon Valley's sexism problem through the lens of satire; hence, Crew's character has become a vehicle for the trials and tribulations of thousands of real-life women who work in the tech industry, and who see her as a vehicle for what it's like being a woman in Silicon Valley.
Besides being a dynamic actress, Crew is a voice for those who suffer with eating disorders — which includes 30 million Americans of all ages and genders. Crew got involved with Project Heal, which assists those with eating disorders in accessing treatment, when she realized that being silent about her eating disorder in her early twenties was only hurting her self. Eating disorders have the highest mortality rate of any mental illness, and she believes there remains a lot of stigma around this mental illness. In this interview, Salon spoke with Crew about her activism in the body image field, misogyny in the real Silicon Valley, and more.

This interview has been condensed and edited for clarity.
Nicole Karlis: I'd love to hear your thoughts on Silicon Valley. In the show, there aren't many lead female characters either except for yours, Monica Hall. How do you think your character fits into the national conversation around misogyny in Silicon Valley — and the tech industry — right now?
Amanda Crew: The show is satirizing the industry, and sometimes the feedback is, "there should be more women on the show." And it's like, well, that's not an option because in the industry, there are more men than women. So, I like that they've stuck to keeping it as a man's world because that is what it is. With Monica, we get to see the weird uncomfortable awkward situations of just being a woman around a bunch of dudes all the time in this industry. So many women have come up to me and commented on how like "Oh my God, I do what Monica does. I've been in those situations like [having my office] outside the men's bathroom." I've gotten to know more people, more women in Silicon Valley, and again, it's another space where it's so disheartening and shocking to see that culture and that world and what these women are up against.
How do you think satirizing the excesses of tech, as done in "Silicon Valley," contributes to the overall conversation about the tech's excesses in our society?
I think they've touched on how this can be a really dangerous and damaging thing, and sometimes it's done in a subtle way, and sometimes it's done very overtly. It can really make you think — like, what they have done with Fiona, this guy is in love with this robot. It's like that's a real thing, and that can feel like where our world is headed.
Can you share with me how you got involved with Project Heal and what that experience has been like for you so far?
I had decided that I wanted to align myself with an organization that was doing work in the field of body image and specifically eating disorders because I had an eating disorder in my late teens and early twenties. I had never really shared that publicly and had realized that I had been kind of keeping that a secret because I felt ashamed, even though I had recovered and I was healthy again.
I know there's the stigma surrounding eating disorders. There's a misunderstanding around them and I fear that if people knew this about me that they would miss label me as the self-obsessed actress who wanted to be super skinny and took it too far. That's the stigma is so damaging to people who are struggling with this and, who are keeping it a secret and are suffering in silence, when they don't need to. I realized by not speaking out about my journey that I was just furthering that narrative. And so last year I decided that no I didn't want to keep that a secret anymore and I wanted to use my platform for good, and that I wanted to speak out about this.
When I spoke with Kristina [Saffran], who's the CEO of Project Heal, and heard what they were doing I just knew that they were the organization that I wanted to work with. I felt that they had a fresh perspective on it. It wasn't this sterile, medicinal look at [eating disorders]. It's something that has been so fulfilling for me to give back in the space, and that has been helpful to me too.
That's so inspiring. I'm happy that you found an organization that you really connected with and that seems like it's been life-changing for you. You said you were silent about your eating disorder for a while, was there something specific that prompted you to really want to share your story last year?
I felt just like the political climate last year, and with women's rights and just the energy in the world, you really just saw a lot of women stepping up and not being quiet anymore about a lot of different things. I was also waking up to that realization of like "Oh wow, you've really been silencing yourself about this out of fear of judgment. And that's not helping anyone. And it's not helping you."
It was an empowering thing to myself. It felt almost like the final step in my recovery in kind of having this compassionate, loving moment of almost like apologizing to myself. It was a release.
In society, we just want—for example, on social media—to try and show all the good stuff that's going on. That's the image that we often project to our friends and our jobs and everything. And so we were taught that anything that's dark about ourselves to hide it, and that no one wants to know about it, and that no one wants to see it. We just want to feel happiness, and so like we push that s**t down, and we dismiss it and diminish it. This felt like a way for me to know and honor that part of me because that is who I am, and that has made me the person that I am. Getting through that and recovering is part of who I am.
It sounds like self-acceptance has been a big part of your recovery process. Can you share more about that?
I think it's especially something that women struggle with, I think men have their own version of it, but especially with women and especially with women in the film and television industry. From a young age, everyone would always tell me, "Don't forget you have a shelf life, once you turn 30 or 35 your career is over so start thinking of a backup." And so you're just constantly made aware that you're only valued for the way you look.
It's an awful idea. Magazines only have super young skinny white girls on the cover. Disney movies are about the princess being saved by a guy. All of this messaging says that your worth is based on your outside image, and I was just on autopilot for a while. I never questioned it until later in life which I think is the case for a lot of women. I'm so grateful for the world we're in now because I think younger girls are being raised with a deeper awareness and different perspectives on all of this. And even media is changing, yes there's a lot of work to do, but it's at least changing and shifting and I'm grateful for it. I'm excited for the younger generation because they're growing up with a different narrative or at least another narrative going on. But that wasn't the way that I grew up.
I was really skinny as a kid and had older women praise my prepubescent body, which is a really disturbing thing. They would say, "oh my God, you're a bottomless pit, you just keep eating and you're so skinny, I wish you could eat as much as you and be as skinny as you." Looking back, it was so damaging, because the message I received was "you're skinny, I wish I was skinny, you're lucky." And once you lose that, being skinny, you're nothing. When I started to go through puberty and my body started changing it really freaked me out and I felt like I was losing what people valued about me.
Like you said, I do think the narrative is changing for young women today, but with social media there is this pressure to post these perfect photos of yourself.
I'm conflicted on social media because there are also so many of these incredible pages for girls with body positivity messages, and showing them a different narrative of acceptance and demystifying all of those Cosmo headlines. On the other side of it, there are these really influential influencers and celebrity models. They're like 18 and they're getting fillers and they're getting injections, and then photoshopping those photos.
More women are running for office, which is very exciting. I'm curious what you think can be done at the legislative level for people who have eating disorders?
It's so great to see more women running, because the only way that we're going to have women's health recognized is with more women there. The most alarming thing to me since getting involved with Project Heal is to see how unrecognized the [eating disorder] space is as far as funding, and the level of seriousness that people take it. I think again there is a stigma around it, that it's a choice, that it's just kind of a woman's vanity issue when in fact it actually affects — a third of people affected by eating disorders are men, and that's also something that like I can't imagine how hard it is for men who struggle with eating disorders.
There's a stigma that it's a woman's issue. So what guy is going to come forward and say, "I'm struggling with this."  Also, for women of color it's it's really not recognized either. They say that it's a white girl's problem, and that's not true. It doesn't discriminate [for] gender, ethnicity, socioeconomic background or any of that. This affects 30 million Americans, yet only 10 million dollars is being raised each year collectively for these organizations.
For director Justin Ward, when it came time to cast the transgender role in his independent feature "Relish," "It never crossed my mind," he said, not to use a transgender actor. "In this day and age, you would never cast a white man to play a black man. This is the way to look at (transgender casting) now."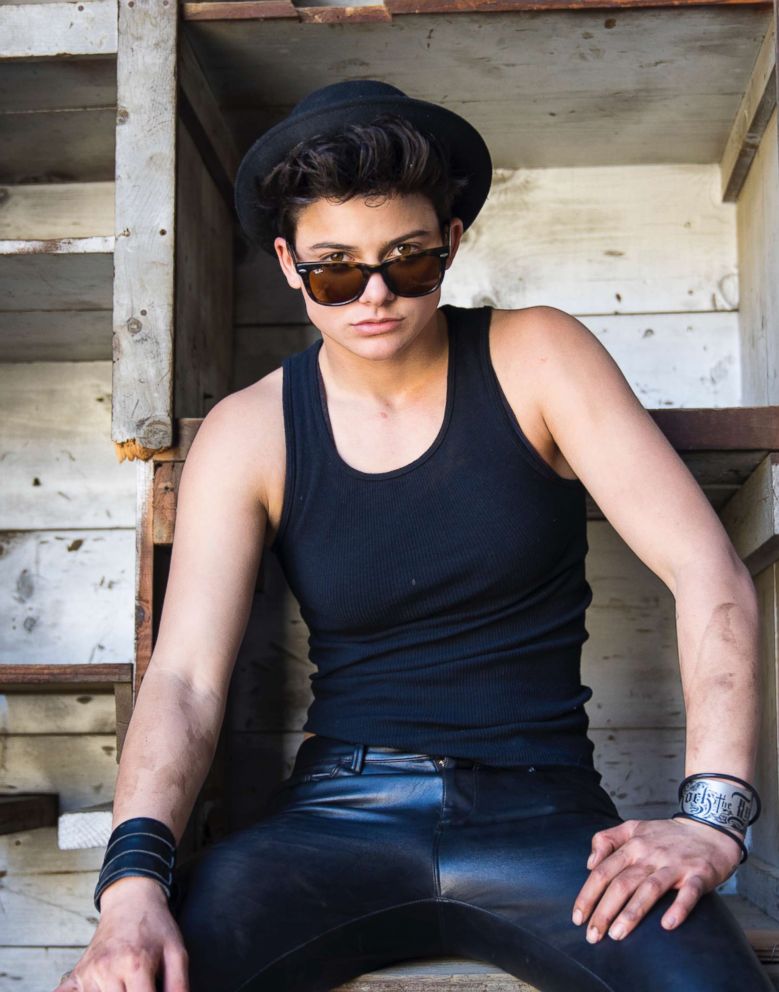 Ward cast novice actor Tyler DiChiara, 18, who immediately fell in love with his character, Kai, one of five teens outcasts who escape a private treatment facility.
"The thing with this character, he's not victimized," said DiChiara, who is transgender. "He's a strong independent man."
He continued, "Kai is the life of the party. Other than his issues of being trans, he's just a man who happens to be trans. I felt like I went through everything that Justin wrote in this script...fear of the future...getting into relationships. The only thing different about Kai is that he is trans."
Ward just wrapped post-production and is looking for a distributor, but already the cast was featured in Variety. And DiChiara has found his calling. At a recent audition, he went for the part of a cisgender man.
"I was just a gay man, a regular man," he said. "That actually made me tear up. I'm going for a cis role. It's crazy how this world is changing."
Film News Roundup: Dermot Mulroney, Melora Walters Join 'Hard Luck Love Song'
PRODUCTION WRAPS
ManM Productions and Ohana Films have wrapped post-production on "Relish," a drama starring Tyler DiChiara and directed by Justin Ward.
The film tells the story of five teenage outcasts who escape a private treatment facility. Led by a rebellious transgender male (DiChiara), the group embarks on a wild, life-changing road trip – ultimately discovering they have a lot more in common than they ever imagined.
DiChiara endorsed Scarlett Johansson's recent decision to drop out of her role as a transgender man in "Rub and Tug."
"I think trans people should have the opportunity to play trans people, just because we get so few opportunities to get hired as actors," said DiChiara, "I love what Scarlett Johansson did.  She gave the trans community a voice finally. She is helping us be seen. I also want to thank the trans community for standing up and speaking out.  We need the trans youth – more now than ever – to see more of us in films, in professional careers, and doing things beyond negative stereotypes and projections. "Relish" is about inclusion and acceptance, and I am honored to have played a leading role in it."
Ward's credits include "The Meanest Man in Texas." MANM Productions' Terry Nardozzi is on board as producer – her first feature film following her involvement with a string of Broadway productions.
"We did a nationwide search for a real transgender person and found DiChiara, who is a tremendous actor and human being," says Ward, "At its core, this is a story about unity and acceptance, and the freedom to be yourself."
Other "Relish" cast members include Mateus Ward ("Murder in the First"), Hana Hayes ("Insidious: The Last Key"), Rio Mangini ("Bitch," "Everything Sucks!"), and James Morrison ("24"). Mateus Ward is co-producing and Brad Wilson is the consulting producer, who formerly operated Robert Duvall Productions.
THR's at-a-glance look at the week in representation news
Who got signed, promoted, hired or fired? The Hollywood Reporter's Rep Sheet rounds up the week in representation news. To submit announcements for consideration, contact rebecca.sun@thr.com.
Gunning for Hollywood
NASCAR Cup and Daytona 500 champ Kurt Busch has signed with ICM Partners as well as Orlando-based Livewire Entertainment for management. "We are thrilled to be working with a premier talent such as Kurt and believe he has a long and great future in television ahead of him," ICM's Matt Sorger and Lou Oppenheim said in a joint statement.
Said Livewire founder Joe Mulvihill in a statement, "I am thrilled to be a part of Kurt's team and to help elevate his career in and out of the NASCAR world where he has already made a big splash."
Bienvenido
Mexican star Cecilia Suarez has signed with manager Byron Wetzel of Wetzel Entertainment Group. The Mexico-born actress actually began her career at Chicago's Steppenwolf Theatre before becoming a box-office draw in Latin America with films such as Tales of an Immoral Couple, Elvira, I Will Give You My Life but I'm Using It and Blue Eyelids. In 2009 she became the first Spanish speaker to receive a best actress International Emmy nomination, for HBO's Capadocia. Suarez also has received accolades for stage productions such as Teatro de los Insurgente's El curioso incidente del perro a media noche, La Rama del Teatro's Hermanas, Teatro Juan Ruiz de Alarcon's Otelo and the Goodman Theatre's Electricidad. She has been seen on Netflix's Sense8, NBC's Medium, ABC's Boston Legal and Lifetime's For the People, where she was a series regular. Suarez currently recurs on the Disney Media Latin America series El Cesar and will soon be seen on Netflix's La Casa de las Flores and MGM's Overboard remake.
Wetzel also has signed Belgian actor Ronald Guttman, who plays Denis on AMC's Preacher. He'll next be seen in BBC/Netflix's The Forgiving Earth and Focus Features' On the Basis of Sex, where he plays a former professor of a young Ruth Bader Ginsburg (Felicity Jones). His other credits include The Good Wife, Mad Men and Mildred Pierce on television; Nina, Girl Most Likely, Pawn, 13, Green Card, The Hunt for Red October, Avalon and Danton in film; and Picasso at the Lapin Agile, Bauer and Master and Margarita on stage.
Elevations
CAA has promoted 10 trainees to agent or executive:
new TV lit agent Austin Denesuk in Los Angeles
new music agents Bennett Beckner and Madison Lee in Nashville and Joseph Harris and Joe Mott in Los Angeles
new CAA Foundation executives Callie Rivers and Maddy Roth in Los Angeles
new CAA Golf executive Beth Enstrom in Jacksonville
new CAA Sports talent sales agent Tee Stumb in New York
new speakers agent Erik Telford in Los Angeles
Paradigm has promoted Margaret Bushart to general manager of the Nashville office, where her responsibilities will include liaising with the Music City community and serving as primary point of contact for the agency's local public relations and charitable initiatives in addition to continuing to oversee office administration. "In her five years with us, Margaret has proven herself immensely capable and a true leader on our team," Nashville office head Jonathan Levine, whose desk will continue to be managed by Bushart, said in a statement. "She's the heart of our Nashville office and will do us proud as the face of Paradigm's operations, alongside our extraordinary agents, to the wider Nashville community."
Scale Management has promoted Kai Gayoso from talent coordinator to junior talent manager. He began his career in the UTA mailroom and worked for digital/branding agent Sarah Early, UTA Marketing principal David Anderson and digital media head Brent Weinstein before moving to ID-PR and working for vp digital strategy Natalie Bruss. "I am so excited to watch Kai continuously grow and continue to further the development of his career within Scale Management," partner Kyle Santillo said in a statement. "He comes from an extraordinary background within the entertainment industry and I am thrilled to see him building out his own roster. With the help of Kai and his knowledge of the media space, we are excited to continue the growth of the organization and further bridge the gap between digital and traditional media."
New year, new companies
Big Frame manager Byron Austen Ashley has formed his own management/production company, Settebello Entertainment, but will maintain a strategic partnership with his former employer, including a first-look digital deal with Big Frame's parent company, AwesomenessTV. The Canadian native, 27, was one of Big Frame's earliest employees and over nearly six years became its senior-most executive, helping digital talent transition to roles on traditional platforms including Netflix, Game Show Network, BET, the U.K.'s Channel 4 and Canada's Family Channel. Ashley, who recently executive produced digital projects for New Form and Lakeshore's Off the Dock, as well as the Streamy-nominated Vimeo original film Bad Night, currently is executive producing Wes Armstrong's Facebook series Couples Night.
Former Big Time PR publicist Mitch Swan has formed Millennial PR, which will represent narrative features, documentaries and short films accepted into festivals, as well as web series and shortform content. The veteran publicist has worked on more than 100 film campaigns and represented projects at Sundance, Slamdance, SXSW, Los Angeles Film Festival, Santa Barbara International Film Festival and Palm Springs International Film Festival, as well as the 2016 Emmy-nominated web series Her Story.
New year, new gig
Strategic communications consultant of 42West, Alexandra Stabler, is joining Endeavor's global partnerships team as a senior account manager, where she will lead strategy for client Imperative Entertainment (All the Money in the World).
On the stage and the page
Actor Erik Liberman has signed with Vanguard Management Group for theater, TV and film. This year he appeared on Broadway in the original musical War Paint, starring Patti LuPone and Christine Ebersole, and last year he was in the acclaimed Off-Broadway musical The Band's Visit, starring Tony Shalhoub. Liberman, who penned a piece for THR.com this summer about Jayne Mansfield, is co-author of the upcoming book Luminous Life: How the Science of Light Unlocks the Art of Living, out next year via New World Library. His screen credits include HBO's Vinyl, Cinemax's The Knick and A&E's Unforgettable. Liberman continues to be represented by Abrams for commercials.
Others on the dotted line
Katz PR has signed Abigail Savage, who as Gina Murphy on Netflix's Orange Is the New Black has shared three straight SAG awards for best ensemble and is again nominated for a fourth. She continues to be represented by Meg Pantera Agency and The Green Room.
Portrait PR has signed Lesley-Ann Brandt, who stars as Mazikeen on Fox's Lucifer. She continues to be managed by Matt Luber at Luber Roklin.
42West has signed actress Bojana Novakovic, whose current credits include I, Tonya and CBS' upcoming James Patterson drama Instinct.
Break – The Musical's Mary Bonney Talks Series Inspiration And Brian Justin Crum
The following breaks were obtained by Big Time PR, Marketing and Branding, INC:

Video From the Slamdance Premiere of 'Dave Made a Maze'! (Exclusive)
'Lost in Florence' Exclusive Clip: A Former College Football Star Finds Solace In Italian Sports After Breakup
Exclusive: First Look at Dree Hemingway as Sweetpea in 'The People Garden'
'The People Garden' Exclusive Clip: Pamela Anderson Flies For A Music Video In The 'Suicide Forest'
Emmys 2016: 'Her Story' Nomination Is the Cinderella Story Trans Creators Needed